branding & design
Are you an entrepreneur ready to up-lift your wellness business to the next level?
With over 20 years of graphic design experience consulting for large brands such as Nike, Columbia Sportswear, Adidas, Sorel, Starbucks, Converse, Museum of Fine Arts Boston and agencies all over Portland, OR, SoulJour is now offering our design expertise to those wanting to make a bigger, more holistic, sustainable impact in the world. We're passionate about elevating and up-lifting you and your new conscious brand to the next level. Working closely together, we'll create a new logo, identity and/or product line to match your style and personality - a style that's been waiting to be revealed since the day you were born!
Logo Design & Branding
Marketing Materials (Flyers, Social Media Graphics)
Apparel & Sustainable Product Design
Presentation Design
Infographics
Copywriting
Photoshoot Direction
Art Direction & Consulting
Festival / Booth Graphics
Here are a few samples of work we've done for conscious leaders and businesses making a difference in the world.
We work closely together to design and produce all aspects of your brand – from logo creation and marketing materials to actual finished product (tees, hats, journals, drinking vessels, tickers, etc). We offer a la carter services and products depending on your needs. When you look as cool as you are, people notice. A super sweet appearance makes a lasting first impression. We'll elevate your conscious business to new levels in the most environmentally sound way possible.
4 Steps to Build Your Conscious Brand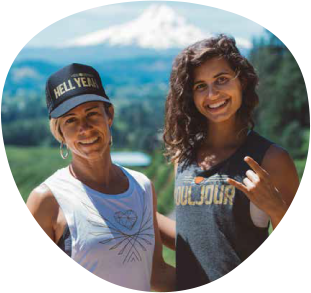 1
We'll schedule a Zoom meeting to meet & discuss all things YOU! Your likes, dislikes, goals, needs, dreams, favorite colors, etc.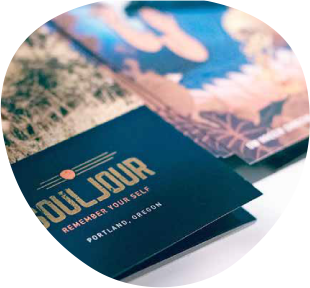 2
Receive and review comps and design ideas for each stage of the process. We'll review and fine tune until you get the perfect result.
If a logo, business cards, and/or social media campaign is all that's needed, we're done!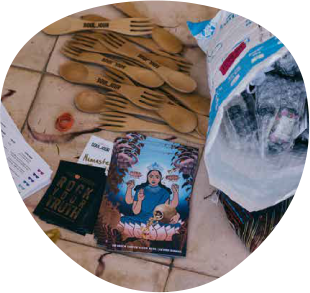 3
Start promoting! Take pre-orders, get your website updated, schedule a photoshoot. On our side, we'll handle all aspects of the production process – product ordering, the printers, press checks, etc
4
You're now ready to promote yourself! It's time to get your new awesome gear into the hands and hearts of your students, friends, family and the world at large. Give a portion of proceeds to your favorite non-profit. Earn passive income while promoting your business to all.